I Love to cook so when I was asked reveiw this program "Cook'n Recipe Organizer" I was super excited. I find new recipes online and of course print them. So I have all those papers shoved in other cookbooks. So I get started:
STEP 1: Download program. Now this did take about 18 minutes and I have RR Turbo.
STEP 2: Watched getting started Video. This will save you time later, if you watch it first.
STEP 3: Download a Cookbook. I picked one thatI thought I could have Fun with and recipes that I could get my picky family to eat.
STEP 4: Play around with Cook'n Recipe Organizer.
Cook'n is five products in one.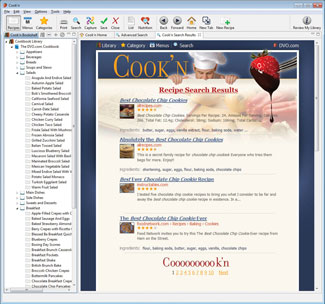 You can search the internet, have your own cookbook,Get Nutritional information, make a Grocery list, Pur your own recipes in, and do a weekly and monthly meal plan.
I have to admit the Cookbook Feature was most exciting to me. I have a Huge family and they all are great cooks. So each year at Family Reunions there is so much great food and everyone wants recipes. Now instead of 200 different recipe cards or papers(If you can grapple the Recipe out of them) You can come home and make your own family Cookbook. Start your own Title of Cookbook I named mine Family Reunion Recipes. Now when someone says "Hey by any chance do you have Grandma Bettys Noodle Recipe" I can say yes would you like it printed and by what size. You can print Full sheets with pictures, 3X5 and 4X6.
Now when searching online which is straight from the internet not going to 10 different recipe sites, It pulls from them all. I typed in Chicken PotPie. I happen to like a top and bottom crust. So I scrolled thru them until I found the one I wanted. Clicked capture and it moved it right to a file on the program, Now it will ask were you want to put it you can organize by ALL catagories. You can also adjust the recipes to feed your family. Usually I have to double mine just becasue I have 3 kids 2 of which are teenage boys. Then I go to Nutritional information. If the fat content is to high I see what I can adjust to lower it. I can substitute sugar with sweetner. Adjust the recipe to your family. and save them both. Then when you have that recipe that everyone wants you can say do you want the fat free sugar free version or the orginal.
Now on to planning a menu.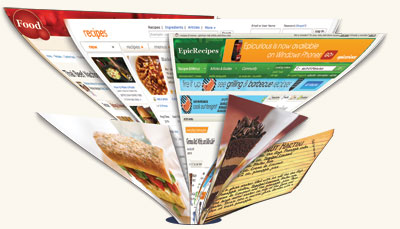 I just dropped the recipes I wanted for dinner that week (You can do Breakfast and Lunch too) and any desserts. And If you have a special occasion that week you can throught that in along with any special drinks etc that you may want to have. Then I can print and hang on Fridge and I dont here 15 times WHATS FOR DINNER? They can just look on Fridge. Now along with this I can pull a grocery list from this too. Which is what I did. I marked off the things that I already had (Love a Stockpile). Then I went throught my coupons to see How much more I could save of Course.
All in all I have found that I really like this Program easy to use and navigate. Cook'n Also has a program you can join for $9.99 a month. Which allows you to get one eCookbook a month of your choice, a Newsletter, Tech support, post questions(When you cant find a certain Recipe) or just need help. And a whole lot more.
I received one or more of the products mentioned above for free using
Tomoson.comhttp://www.tomoson.com/?code=BOTTOMa60736f18cc3b35717ec9b284a75d1fe">Tomoson.com>. Regardless, I only recommend products or services I use personally and believe will be good for my readers.